Coach Art Borin Batting Cage
Goshen Little League dedicated a batting cage in Art Borin, Jr.'s name in April in 2015. His mantra "Work Hard, Play Hard" will inspire kids to develop clean, healthy habits during childhood. He spent tireless hours coaching many of Goshen's children. He loved his time with Goshen Little League. Many local family donations made this batting cage possible, as well as a contribution from AMSCO.
Art Borin, Jr. Memorial Scholarship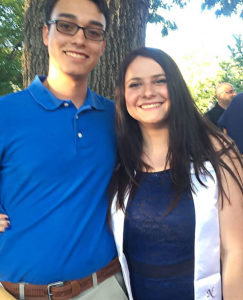 Art Borin, Jr. Memorial Scholarship is awarded to high school seniors pursuing a college degree in engineering through the Orange-Ulster County BOCES Program in Goshen, NY. Scholarships have been awarded to 5 college-bound seniors in two years. Past recipients are attending SUNY Orange and Manhattan College.
2016 recipients Nicole Monda and Sebastian Echevarria.
Missionary Venture International
Missionary Venture International is an organization providing valuable education, life skills and clean drinking water in Ecuador. AMSCO's own Don Wolfram is the founder of the mission and, along with wife Mary, provide countless volunteer hours to the betterment of the Ecuadorian people. They recently embarked on building a home for unwed mothers there as well. AMSCO proudly provides support for this project.
Coach Duane Davis Scholarship Fund
AMSCO also lends support to the Coach Duane Davis Scholarship Fund. The Hyde Park Knights of Columbus holds an annual fundraiser that provides scholarships to deserving senior basketball players who pursue a college degree in the education field. Coach Davis was a teacher and coach for 40 years in the Hyde Park Central School District in New York. He was also a highly decorated men's basketball coach at Mount Saint Mary College in Newburgh, NY. His leadership by example has impacted hundreds of young men to be the best they can be.