Coach Art Borin Batting Cage
Goshen Little League dedicated a batting cage in Art Borin, Jr.'s name in April in 2015. His mantra "Work Hard, Play Hard" will inspire kids to develop clean, healthy habits during childhood. He spent tireless hours coaching many of Goshen's children. He loved his time with Goshen Little League. Many local family donations made this batting cage possible, as well as a contribution from AMSCO.
Art Borin, Jr. Memorial Scholarship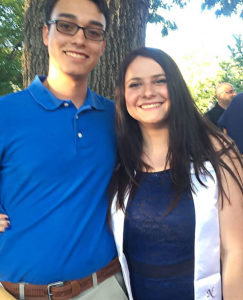 Art Borin, Jr. Memorial Scholarship is awarded to high school seniors pursuing a college degree in engineering through the Orange-Ulster County BOCES Program in Goshen, NY. Scholarships have been awarded to 5 college-bound seniors in two years. Past recipients are attending SUNY Orange and Manhattan College.
2016 recipients Nicole Monda and Sebastian Echevarria.
At AMSCO, we're looking to do more than just innovate and provide the best quality castings and the best price.
We also have a mission of helping provide scholarships and student debt relief in partnership with The Duane Davis Foundation.
With AMSCO's ardent support, DDF has provided almost $200,000 to deserving recipients helping students get a jump start on their futures without the heavy burden of school debt that so many never escape.
AMSCO's mission of giving doesn't stop with scholarships.
Coach Duane Davis Scholarship Fund
In 2019 AMSCO's contributions led to the completion of The Diane Caves Clinic on campus. Diane was working for the U.S. Department of Health and Human Services in 2010 helping Haiti assess its AIDS/HIV crisis. Diane lost her life during the devastating earthquake that same year. The clinic that bears her name provides basic healthcare, to not only the students of the academy, but includes the people of Anse-aVeau.
This medical care is provided free of charge to it's patients and serves as an emergent care for victims of the most recent natural disasters. These buildings have also acted as a refuge for victims displaced by earthquakes and other natural disasters.
Lastly, AMSCO is also involved with the construction of what will become The Art Borin Jr. Technical School, named after AMSCO's late CEO. The construction efforts have led to upwards of 70 people being employed, some for the very first time. This school, which is 75% completed, will educate students in areas of STEM curriculum in his honor. The hope is the dormitories being built upstairs will one day house foreign exchange students interested in that particular skill set.
Please email karen.borin@amsco.us if you are interested in participating in these efforts. Contributions can be made via Venmo @TheDDF (6503 to verify) or checks made payable to The Duane Davis Foundation can be sent to 123 Bonnie Brae Ct. Granite Springs, NY 10527.  A little goes a long, long way in Haiti.  Please avail yourself of haitiansportsfoundation.org to see building plans, student activities relief effort, photos and videos.